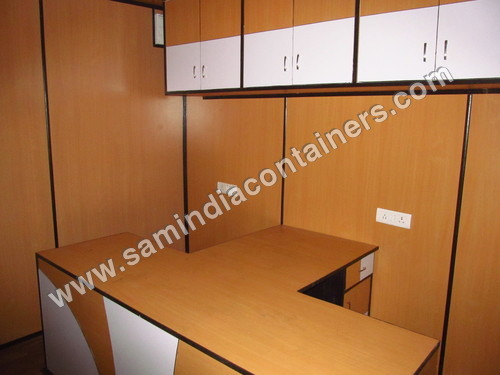 Office Container
Product Description
Office Container
We are one of the leading manufacturers & suppliers of an extensive range of Office Containers. These are fabricated using fine quality material and advanced technology that ensures their superior quality. This Container range is tailor made as per client requirement and usually the size of container size varies from 20Ft. to 40Ft. These are highly appreciated among our clients and available in the market at reasonable prices. This range is in top demand by our esteemed clients spread across India as well as overseas.

Features
Eye catching look and energy saving
Pre-engineered as per industry standards
High strength
Easy to install
Earthquake proof and weather proof
With the soaring rents of post office areas and because of the character of companies being adaptable, a few businesses are shrewdly selecting to utilize moveable office containers. A portable or moveable or office compartment is much the same as some other ordinary office, with the exception of that you can relocate it to any other area.

An office holder is perfect if your place is situated in a remote region or a perilous zone:

Where you have to screen field exercises:
For example, gas, construction, oil and mining fields as well as defense locations. In these areas, you can without much of a stretch set up an office by means of an office compartment using a little space. At the point when the circumstance requests, you can simply relocate your office to a complete new location. This will assist you effectively screen the field exercises while offering a central area to all official and administrative duties.

Where you have to set up exigency camps :
A catastrophe, for example, hurricane, tsunami or any significant accident, does not appear with a notice. In these crisis circumstances, individuals require to set up impermanent bases rapidly, for instance, medical and food assistance. Lives of Human are rescued by the pace with which these crisis help units are installed. Here, our office compartments are exceptionally helpful as they may be installed into exigency facilities in 2 to 3 hours.

Where you require an option for a standard office :
An office compartment is a less expensive and more adaptable decision when contrasted with a ordinary office. With the top notch costs in the main rental zones, some keen financial specialists are utilizing office containers as their standard workplaces. An office compartment has all the fundamental facilities, for example, separate cabins, wireless connectivity, a washroom and air conditioner. This will assist you execute your commerce deals similarly as in a standard office surroundings. And that also at a much sensible cost.
Container are tailor made as per client requirement usually size of container size varies from 20Ft. to 40Ft. in length width from 8Ft. to 10ft. width the height 8.6Ft. to 9.6Ft.