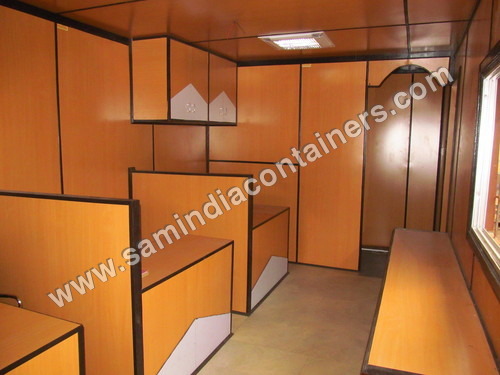 Exhibition Stall Container
Product Description
Our esteemed clients can avail from us an exclusive range of Exhibition Stall Container that are made using high quality materials which is sourced from reliable vendors in the market. The Exhibition Stall Containers are well known for their impact resistance, dimensional stability in extreme temperatures and resistance to any weather condition. This range is well designed with the optimum utilization in space inside the container. Our range of products are also checked stringently by quality analysts to ensure that defect free range is supplied to our customers.
Features
Can be used for trade shows, fairs and exhibition
Various sizes options available
Corrosion free
Excellent surface polishing and finishing
Light weight, and easy to carry
Most ideal approach to offer your items is to partake in an exhibition and trade stalls particularly for workers operating in a outside area where adjacent market are also located in remote regions.

With no admission to whatever other place your items can be marketed hand to hand in seconds whether it is men beauty products, property exhibition, grocery items or electronic gadgets. Introducing an exhibition may look hard in initial step, however once it is completed offering your items is a certain achievement.

How we help?
Our business comprehends the magnitude and scale of business presentations. We possess a system of assets to combine from and consequently will have the capacity to make an exhibition stall at whatever construction site or remote area for you at a sensible cost.

The Exhibition Stall Container that we offer look alluring as well as in the particulars of the management and flame resistant and so on. We are knowledgeable in these viewpoints and conserve you from the migraine of guaranteeing that everything is dealt with. We additionally deal with plain however profoundly powerful things, for example, swooper banners, popup displays, table displays, LC televisions and so forth.

You may contend that your labors working in remote area don't require such favor plans. Be that as it may, even your labors would adore when they see alluring stalls. Further, it will assist them to ease and make your workers happy.
Container are tailor made as per client requirement usually size of container size varies from 20Ft. to 40Ft. in length width from 8Ft. to 10ft. width the height 8.6Ft. to 9.6Ft.