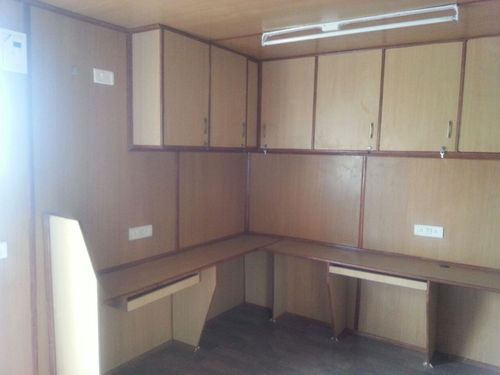 40Ft x 10Ft Container
Product Description
40Ft x 10Ft Container have 40 ft extent, which implies sufficient space to adapt extensive objects. These compartments are ideal for exchanging vehicles such as motorcycles, mini trucks, cars, trucks, etc. from manufacturing plant to sellers or from one town then onto the next city. These compartments are very secure, durable and water, temperature, corrosion safe. All these affirmative viewpoints make it a perfect compartment for long ocean ranges.

Not just to transfer products, these compartments can additionally offer as an apartment, compact medicinal healing center, multi storage and mobile office compartment for any secluded work area.

How we provide assistance?
We make and outline 40Ft x 10Ft Container on predictable basis for our customers. These compartments are ideal for retailer's makers and particularly ranchers who require to store abundance grain stock on normal premise. Keeping food in our compartments averts them from rats, bacteria, monsoon and various other sort of influence. By and large, we guarantee that whatever your item is it stays totally safe from external unsafe world.

Primary Features of our 40 ft Compartments are :
Safe and Strong:
Manufactured from untainted steel, our compartments are solid and can endure in any intense condition.
Perfect to store vast items :
A 40 ft compartment is perfect for keeping huge moveable items like heavy and small vehicles or huge piles of sustenance grain stock.
Can be utilized on remote area :
Not only got relocating or moving, these compartments can additionally be installed as mobile office for secluded office area. These compartments can be changed over to living room compartments, small hospitals, well outfitted workplace, multi storage compartments or anything that you require in remote area. Our group has vast experience in outlining or changing over transportation compartment to mobile office compartment.
Simple transportation :
Regardless of whether long ocean courses or conveying hefty products from one state to another state in India. Our compartments can be simply unloaded and loaded from manufacturing plant to sellers or vice versa.
Cost :
Our 40 ft compartments are very money saving contrasted with different businesses, we provide two sorts of transportation compartments.
Manufactured 40 Feet Compartment: Build without any preparation, these compartments are perfect for the individuals who are searching for most recent fresh out of the plastic new compartment and have requirement of keeping fragile things like fruits, food grains and many more. Only disadvantage is that our compartments are costly and consumes considerable time to install it.

Utilized 40 Feet Compartment: These compartments are utilized dispatching compartments, very modest, can be accessible in brief term and perfect for individuals who have less budget. In spite of the fact that they are utilized, yet we guarantee that they possess world class quality. We completely test them for any imperfection and on the off chance that it is discovered, we dismiss that compartment. Generally, we never underestimate on our quality whether it is old or new 40 ft compartment.