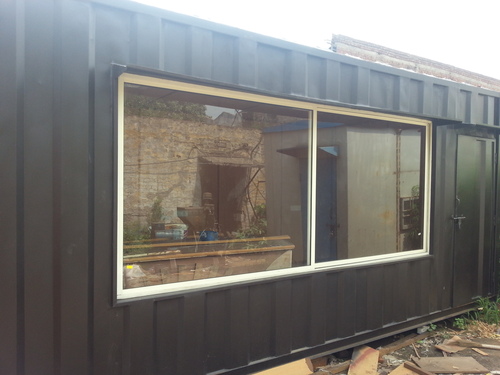 20ft Office Container
Product Description
Our business has practical experience in making 20ft Office Containers. These compartments are most appropriate for transporting material starting with one city then onto the next city. Aside from that, they can additionally be utilized as mobile office reasonable for secluded office area. Our 20 ft Containers possess limit of over 40 cubic meter i.e. it possesses sufficient area to adapt hefty objects such as iron oil, gas, coal, oil and many more.

Aside from that, different attributes of our 20 Feet compartment are
Solid, Weather Proof and Air Proof: Fabricated of untainted steel, our compartments can be placed in tough climate conditions like extreme heat and cols, hefty rains (flood like circumstances) or any other distant area all through World. Aside from that, our compartments are corrosion safe and abrasion also.
Great Weight Limit : Most individuals are interested to think about weight farthest point of a compartment. Our 20 ft compartment has limit of no less than 30 tons comprising weight of compartment and payload loaded inside.
Effortlessly transformation to compact storage compartments: With sufficient area to suit, our compartments can be effectively changed over into compact storage compartments from within to keep 2 or 3 items at one time.
Simple change to Moveable Office : With sufficient space to gather more than 20 individuals at once, these compartments can be effortlessly changed over into moveable office compartments. A very much outfitted executive office possessing different cabin for workers, boss cabin, conference room, meeting room and so on can be effortlessly installed in our 20 ft compartment.
We provide 20ft Office Container (compartments) all through India for installing transferring products and office. In the event that you ever require to deliver hefty raw material or require to install a moveable office, kindly reach us, we would like to guide you.